Visit us today to try our Award-Winning Wines
St. Anne's Crossing is Sonoma Valley's premier zinfandel house! We are open by appointment daily with seated outdoor patio tastings. We also accommodate walk ins as long as we have a table open for you! We are open 11-5 with appointment times on the hour, lastng approximately 45 minutes. Our maximum guest count per reservation is 6. We do ask that you arrive on time. Reservations arriving more than 15 minutes late may be forfeited. Outdoor food is currently allowed.
Our charming tasting room is in the heart of the Valley of the Moon in Kenwood. We look forward to hosting you and introducing you to our friendly staff, scintillating wines, and welcoming tasting room and outdoor patio with sweeping views of Sonoma Valley.
Our socially distanced, outdoor patio has re-opened for tastings as of 1/25/2021! Please book a reservation below for a tasting, or give us a call. We do have some outdoor heaters, but we suggest bringing a blanket, as heaters are available on a first come-first serve basis.
We are open for curbside pickups and deliveries (limited areas), and shipping.
Open Daily 11:00 am – 5:00 pm
Tasting Room: (707) 598-5200
Our Tasting Room is closed on the following holidays: Easter, Thanksgiving Day, Christmas Day, & New Years Day
Here are a few things to know to ensure the best experience during your visit as we do adhere to California & Sonoma County requirements and guidelines to protect our staff and you from COVID19.
Guidelines and Safety Protocols
Face masks are required to enter the tasting room and restroom areas, and need to worn when you are not at your table
We cannot accommodate your tasting if you are more than 15 minutes late, and the fees are not refundable
In order to comply with re-opening guidelines as established by Sonoma County and the State of CA, social distancing protocols and proper sanitizing must be adhered to and we will do our part to support you and our staff's safety
For you, this includes santizing your hands at our entrance station, washing your hands after restroom use, maintaining a minimum of 6ft distance from other guests and staff when not at your table, and wearing your face mask when not seated at your table. Also complying with any signage in our tasting room and patio
For us this includes

All of our staff are required to wear face masks while working with guests or in close proximity to co-workers.
All of our staff are required to wear gloves in the preparation of our tasting location.
We have arranged our furnishings and tasting areas to assure a minimum of 6-feet of social distancing between seated tasting areas.
All high-contact surfaces will be cleaned and sanitized between each reservation. This includes tables, chairs, glassware, and other touch points. Disposable menus and spittoon cups will be provided for single use.
Common areas like restrooms, staircase railings, door handles, and other high usage areas and fixtures will be cleaned and sanitized on a continuous basis throughout the day.
All staff members are required to follow rigorous hand washing procedures between all guest interactions.
To make a group tasting reservation, call (707) 598-5200 or email info@stannescrossing.com.
---
AVA Seated Tasting Experience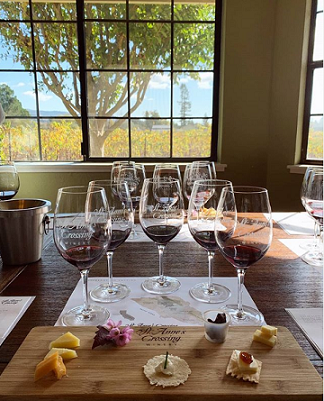 Currently an outdoor seated experience, formerly an indoor tasting, featuring a range of Zinfandels available by appointment, Thursday, Friday, and Saturday at 11:00am & 1:00pm.
Taste your way across the unique terroirs of Sonoma County at our exclusive seated AVA (American Viticultural Area) tasting experience, where you'll learn about the history and characteristics of our favorite grape growing regions and how they produce our collection of distinct, award-winning Zinfandels. Our knowledgeable wine educators will guide you on a one hour presentation featuring five hand-selected Zinfandels and paired cheeses showcasing each appellation.
$40 PER GUEST | $25 WINE CLUB
Maximum 6 guests per reservation
48 Hour advance reservation required
Email wineclub@stannescrossing.com or call (707) 598-5200