The Bear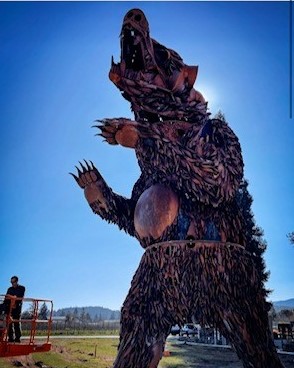 Ken Wilson's love of eclectic local art has led to the purchase of three colossal sculptures currently residing at his wineries in Alexander Valley, Dry Creek Valley, and Sonoma Valley. While he was first introduced to Sonoma County artist Bryan Tedrick's work through the striking bull sculpture in downtown Cloverdale, Ken really fell in love when Tedrick's Coyote sculpture, first debuted at the 2013 Burning Man festival, was installed along the Geyserville Sculpture Trail. Ken later purchased the Coyote which now reigns over Dry Creek Valley at the front of Wilson Winery.
In 2016, Ken purchased another of Tedrick's pieces, dubbed "Lord Snort" – a giant wild boar, which had also debuted at Burning Man; it now lives at Soda Rock Winery in Alexander Valley, its sturdy construction having survived the 2019 Kincade fires. Drawn to Tedrick's art for many reasons, Ken is most engaged by Tedrick's fondness for both large scale and fine detail—the way his use of steel and various materials provides definition down to the sinewy detail of muscle structure.
The latest addition to Ken's sculpture collection was commissioned directly from Tedrick in 2019 – a ferocious grizzly bear standing on its hind legs with a swiveling head – and features recycled steel recovered from the burned down structure of Soda Rock Winery's former tasting room. The 28' tall grizzly bear will make its home in Sonoma Valley – the location of the Bear Flag Revolt of 1846, with the grizzly bear itself a symbolic icon of both Sonoma Valley and California.
Fabricated in steel, the 15-ton bear sculpture was installed at St. Anne's Crossing Winery in Kenwood in January of 2022, taking its place among the largest sculptures in Sonoma County. In development for over 30 months, the bear resides just down the road from Tedrick's Glen Ellen studio. The sculpture is endowed with even greater meaning for Ken Wilson, as it incorporates recycled steel from his Soda Rock Winery Tasting Room which burned down in the 2019 Kincade Fire.
"Doing a bear was Ken's inspiration, my task was to bring it to life. The attitude he asked for was ferocious, and thus the pose. I incorporated some used steel recycled from local sources such as water pipes from Sobre Vista (the fur), light standards from the city of Sonoma (hands and feet), conveyor belt chain from the sawmill in Cloverdale (neck area), and beams from the charred remains of Soda Rock Winery (lower leg).
Interpretation of this bear, its meaning, is really as varied as the viewers. The Bear, to me, is a reminder of the wildlife that surrounds us and the will to survive. I am grateful to have been able to create this powerful sculpture and share it locally! My studio is only a few miles away and I have been able to work there for over 25 years thanks to the Gordenker Family".
Dimensions: 28′
Weight: 15 tons
Medium: Steel, redwood